John Philip Sousa was born in Washington, D.C. in 1854, on G Street near the Marine Barracks. His father, Antonio, played trombone in the U.S. Marine Band, and John Philip grew up surrounded by military music.
By all accounts, Sousa was an adventure-loving boy, and at the age of 13 he tried to run away to join a circus band.  His father enlisted him in the Marine Band as a band apprentice, while he concurrently continued his private musical studies. After serving seven years with the Marine Band, he was discharged from the Marine Corps.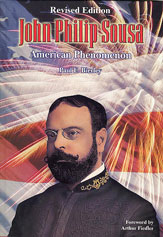 He continued to perform as a violinist and as conductor in various theater orchestras in the Washington and Philadelphia area.  By 1880 he had become well known as an excellent conductor, composer, and arranger.  During this year, he was appointed the leader of the "President's Own,"  the U.S. Marine Band.  He served in this position for 12 years, during which time this band became one of the finest military bands in the world.  Sousa resigned from the Marine Corps in 1892 to form his own civilian band.  Throughout the world audiences came to see "The March King" during his American and worldwide tours.
Sousa was known to say, "When you hear Sousa retiring, you will hear of Sousa dead."  On March 6, 1932 in Reading, Pennsylvania, Sousa passed away suddenly following a rehearsal of the Ringgold Band.  The last piece Sousa conducted at this rehearsal was his most famous march, The Stars and Stripes Forever.  By an act of Congress in 1987, The Stars and Stripes Forever was designated as the National March of the United States.
Click here to see a list of Sousa music and books.
Save
Save
Save
Save